What is DroidSans Tweak Tools?
DroidSans Tweak Tools is a root-level utility that provides some cool abilities for your G1, for instance, Auto Rotation feature.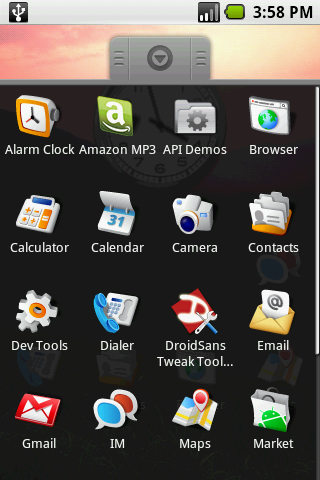 Key Features
– Remount /system directory to read/write or read only
– Reboot your phone
– Enable and disable auto rotation
– Check your current auto rotation feature status

Supported Firmware version
– Modded RC29
– Modded RC30
– Modded RC8 (UK)

Limitation
– Some applications may not support Auto Rotate Screen, for example, Browser.

How to install
1. First of all, please ensure that you have already updated your G1 using the modified firmware from xda-developers.com or you will not be able to run it.
2. Install DroidSans Tweak Tools from Android Market.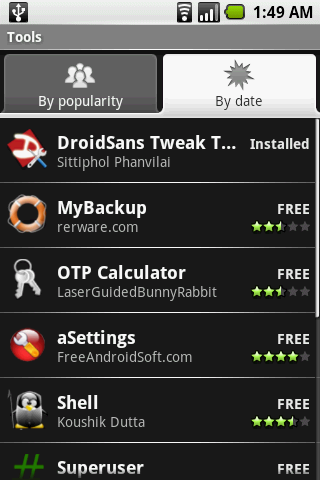 3. Enjoy!

How to use
1. Remove su password (if any)
2. Open the utility, and you will see the following menu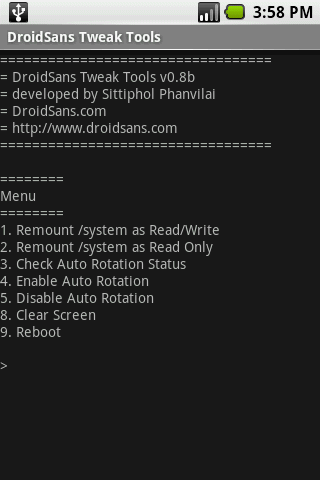 3. Select a choice of the action that you want. Please not that if you wanna enable or disable the auto rotation feature, you have to reboot your phone after making change.

Auto Rotate Video Demo
Future Works
Current version of DroidSans Tweak Tools is still in beta. Of course, we have plans to add more and more exciting features and also more user friendly UI. Next version will be released soon. Please keep your eyes on DroidSans.com 😉

Donation
DroidSans Tweak Tools is totally free. However, If you like it, please support us. So, we will have enough money to buy another phone models for our developers and help you rock the world! Thank you. 🙂